But How?
When you understand a powerful shortcut that taps into the deepest reaches of your mind.
There are two levels to your brain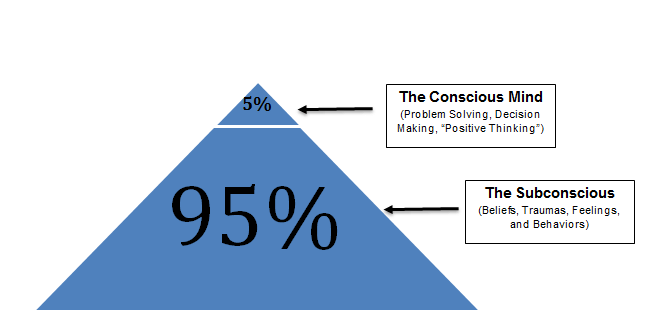 There's the "Surface level," also known as the conscious mind.
These are all of the thoughts you're actively aware of. Whenever you decide where to go for dinner or balance your checkbook… that's the conscious mind at work.
Most of us, attempt to raise our vibration at the conscious level. We "think positive thoughts", use affirmations, and apply strategies from personal development gurus.
But, the reason your life hasn't changed is…
Doing those things are a lot like taking rose-colored selfies and posting it on Instagram.
Things may look for a short moment in time, but the truth there's a stark reality being hidden from view.
Underneath the conscious mind, your subconscious is secretly running in the background, shouting-out negative thoughts, like…
"I'm not good enough…"
"I'm not worthy…"
"I don't deserve…"
Thought patterns that keep your vibration low.
While your conscious mind contains maybe 5% of your daily thoughts, your subconscious holds over 95%!
It's where all of your long held beliefs, traumas, and negative thought patterns are stored.
Subconscious thought patterns are 10,000 times more powerful than those formed in the conscious mind.
This is why people struggle to manifest the lives they really want.
The subconscious runs the show.
But, here's the good news…
There is a WAY to clear the gunk away, and it's SO easy. It's something called…
"Energy Orbiting"
And it works by reprogramming the negative, beliefs, and traumas that hold us back.
In order to reach the deepest "Transformation Zones" of the subconscious…
It requires you to shift your brainwaves, from a Beta State where we spend most of our day…

Into Theta State…

Which is normally only achieved through deep states of sleep or meditation.
But, once you enter that Theta Transformation Zone…
"Energy Orbiting" uses the power of expertly crafted subliminal "mind commands" to effortlessly release old thought patterns… and place positive ones in their place.
Negative thought patterns that shout "I'm not worthy"…
Transform into Divine Patterns that proudly affirm:
"I'm unique and powerful."
"I don't deserve" becomes "I effortlessly receive."
"I'm a failure" is replaced by "I can accomplish anything."
In short…